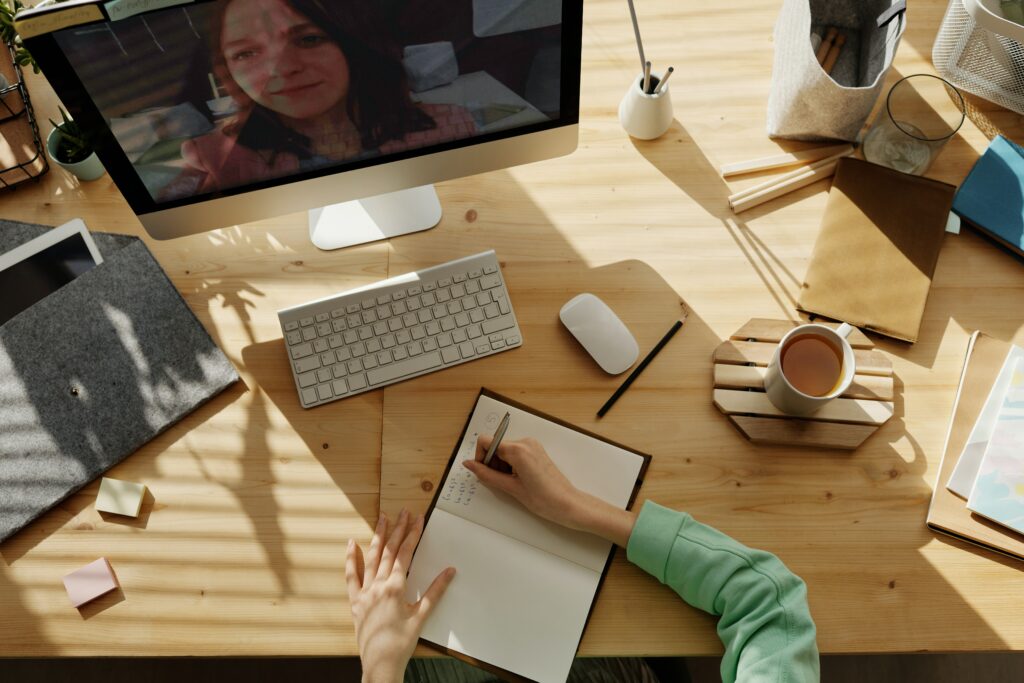 Why are online courses so powerful and what are the top advantages of following online courses to grow your career?
Do you want to become the best and most successful version of yourself and grow out of your comfort zone? Learning something new every day will help you actively grow your career in the direction you want it to go. A very efficient way to learn new skills and gain new theoretical and practical knowledge in a short amount of time is to enrol in online courses.
There are endless numbers of online courses available on the World Wide Web and if you have never enrolled in one before it can be intimidating and overwhelming to get started.
There are online courses that help you to learn languages, learn new computer skills, advance your creativity in photoshop or improve your marketing know-how. Those who want to learn how to improve their communication skills, want to become a pro in negotiations or want to turn into an excellent writer will also find appropriate courses online.
These are just some examples of courses that are being offered and are booming online. No matter what kind of skill you want to work on, there is almost a guarantee that the web offers a suitable course on the topic. Popular websites to enrol in online courses include Udemy, Edx and Coursera. Courses vary in length, content and learning style, so it is up to you to find the course that is matching with your interest, budget and learning type.
But where to get started? Which courses are actually worth your time and are a non-regrettable investment?
There are many online courses and certificates being offered by premier institutions, organizations and companies. And a lot of them are free! These courses are a great way to gain specialization in a certain area, bring further value to your company or stay active and improve yourself during periods of unemployment.
So while we at Abroad Experience are busy finding you your dream job, have a look at some of the best online courses we have found:
Coursera

(Free MOOCs – Massive Open Online Classes – provided by top universities such as MIT and Harvard. These courses, similar to those in real-life universities, necessitate a certain level of commitment. Many courses also include the paying option of a Verified Certificate, which attests to your completion of the coursework and can be shared on LinkedIn profiles and CVs.)
Duolingo

(Free language modules offered in a wide selection of languages and levels. In addition, Duolingo is constantly striving to improve its programs, which are also offered in tablet and smartphone applications.)
Memrise

(An online community learning tool used mainly for language learning but also branches out into other subject areas. Available in applications for tablets and smartphones.)
OpenCulture

(A selection of online courses and certificates on a variety of subjects from leading institutions provided through other educational platforms, such as Coursera. Classes are organized by course credential codes, some of which require or offer paid verification.)
The Open University

(An accredited university offering innovative distance learning programmes. Many degree options are available and the university does not take into account previous academic achievements with regard to admission. Course fees vary depending on where you live and financial assistance may be available.)
The Dell Training Center

(Online courses in 20-minute modules on subjects ranging from cloud computing to virtualization, from data storage to security. Courses are free and are rated on a five-star scale with user comments.)
Microsoft Learning

(Microsoft's training and certification portal, where you can find everything from Microsoft office suite video tutorials to a search tool to locate the training providers nearest to a specified location for obtaining certain certifications.)
Training for Android Developers

(Extensive lessons on development with Android, from the bare essentials to more advanced application development. Also offers a related 6-12 month Android Developer Nanodegree for a monthly fee.)
ALISON

(A collection of 600 free standards-based and certified courses from top publishers such as Google, Adobe and Macmillan and subjects ranging from finance to health to IT.)
Here are our top 8 reasons why online courses can be what you are looking for to take the next steps forward in your career in the Netherlands:
Online courses are the future way of learning:
No need to spend money on gas or train tickets to be able to attend classes. Especially since the Covid-19 pandemic, online classes are an easy and practical solution to keep on learning and developing from your own living room.
Online courses save you time:
Stop spending time on Google and on searching for answers to your open questions. There are so many websites out there and they each tell you something different and end up confusing you. If you are looking for compact online course programs, then many courses can provide this.
Online courses save you costs:
Say goodbye to expensive in-person classes and say hello to more inexpensive and efficient online courses. Online courses are practical and summarize the 'must know' facts about a topic without overwhelming you and stretching your bank account too much.
Online courses are location independent:
You can follow courses from anywhere around the globe, as long as you have stable internet and a personal device (e.g. laptop or tablet).
Online courses give you flexibility:
You can follow an online course at your own pace because. Many programs can be completed in several days or in several weeks/months next to a full-time job or other obligations. Nobody judges you on your speed of finishing the content as it is for your personal growth.
Online courses can get you closer to your goal:
Online courses will give you new inspiration, new tips and new resources and will let you have many 'aha' moments. Go on a journey of self-discovery. Reflecting on your personal situation, your next steps and your personality is a crucial part of the job search progress.
Online courses are interesting and interactive:
By combining theoretical and practical content, as well as adding interactive exercises, quizzes and handouts, many courses acknowledge that people have different learning styles and want to spend their time well without getting bored along the way. An online course should be a fun way of taking in new information and learning new skills.
For more detailed information look at our other blogs on interview tips and tricks, internships and how to present yourself on social media…
Abroad Experience International Recruitment wishes you the best for your career path!
Do not forget to follow us on social media to be updated on new blogs, free guides and job openings: Instagram, LinkedIn, and Facebook!