The OV chip card is the golden ticket to get everywhere and anywhere in the Netherlands by train, metro, and bus. This smart card is the size of a bank card which contains an invisible chip. It can be loaded with credit in Euros then you can travel anywhere within the country. It will be something you will use on a daily basis if you don't plan on driving a car, and quite frankly- you don't really need one when you live here. Public transport is super easy and well-organized in the Netherlands. And this is how you can go about it.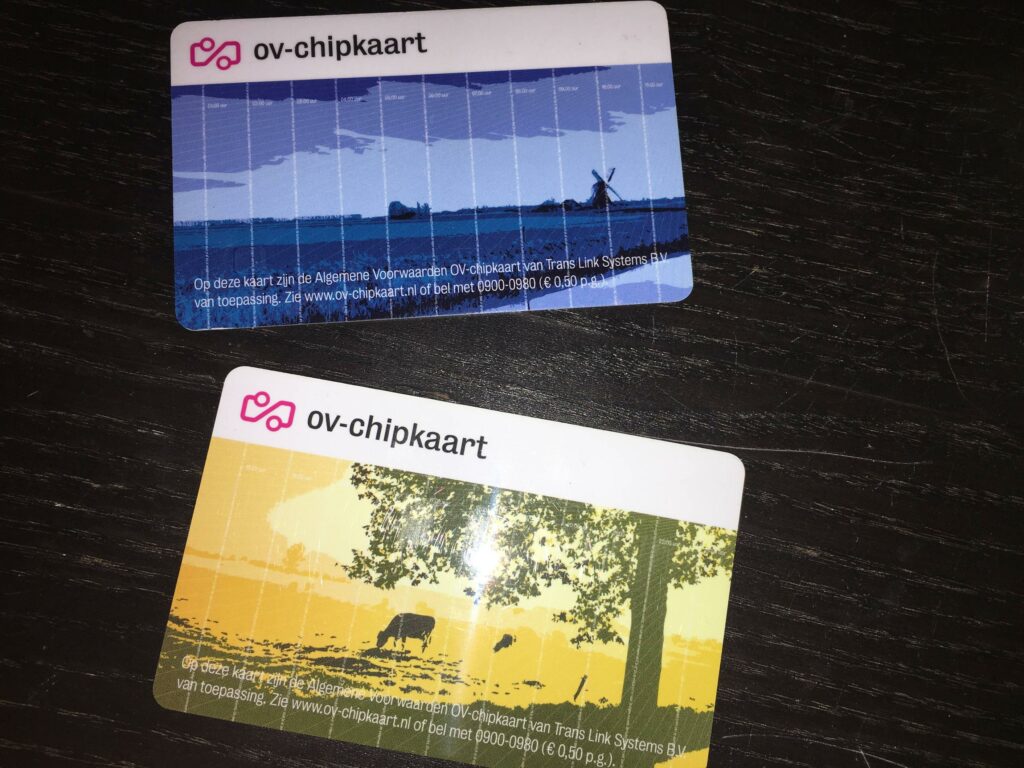 How to use
All of the options that you will see below have a little chip in them which will be used to "check in" and "check out" of the station. In every station, you will find machines where you hold your card against, and it will activate the card to measure what product or amount you have on it. When you forget to check in you can get a fee of 60EUR if the conductor comes and checks your card, and if you forget to check out, 20 EUR will be automatically taken off of your personalized card.
Types of OV cards
Blue OV chip card – This is a plastic card which you are able to top up with whatever amount you like, but it is not linked to a specific person.
Yellow OV card – This is also a plastic card which you are able to top up, but it is linked to a specific person. Your name, birthday and photo are displayed on the card and are usually used by people who use public transportation daily.
Single tickets – Maybe you've forgotten your chip card at home, or simply don't find the use for one. These tickets are made of paper and can only be used once on the day of purchase.
E-Ticket – Travel with ease without an OV chip card. This is another option for those who do not use the trains regularly. You're able to buy a one-way (enkele reis), full-day (dagkaart), or rail runner ticket. All you need to do is purchase the ticket online, print it, (or have the PDF stored in your phone) as well as a form of identification and you're set!
Products
Abonnementen – This is a subscription which is available for those who hold a Yellow OV chip card. For example, say you travel from home (Utrecht) to work (Amsterdam) during weekdays, it's cheaper to purchase a monthly abonnement that is active on your personalized card rather than buying a one-way ticket every day. Once this product is activated on your card you can check in and check out of stations with ease. Although it is not compulsory, most companies in The Netherlands reimburse the cost of your daily commute to work. The policy regarding the compensation amount for public and private transport varies from company to company.
Samenreis korting – One of the great perks of having an abonnement is the sameness korting (roughly translated: travel together discount). Should you have friends or family visiting you, they are able to travel with you for 40% off their journey on their own OV chip-cards. This is only active during the slow hours of the day: 9:00 – 16:00 and 18:00 – last train. All you need to do is be with them while travelling, and make sure to go to a ticket machine at one of the stations and activate their card to get this discount.
OV-Bike – There are more than 250 locations where you can rent a bike, either at stations, bus or subway stops, in some city centres and parking lots. For EUR3,50 you can rent a bike for 24 hours or you can pay EUR10 for a subscription fee that you can add to your Yellow OV chip card which you can use to grab an OV bike on the go.
Activities
On the NS website, you can find many great deals on day trips and more. Every month the Netherlands has an event or special day during which the NS usually has special offers to travel to various exciting destinations in the Netherlands. Usually, these deals include the train ticket as well as a snack from one of the vendors at the stations (e.g. Smullers, Albert Heijn To-Go, Broodzaak).
You're bound to have an adventure with this golden ticket! Safe travels!