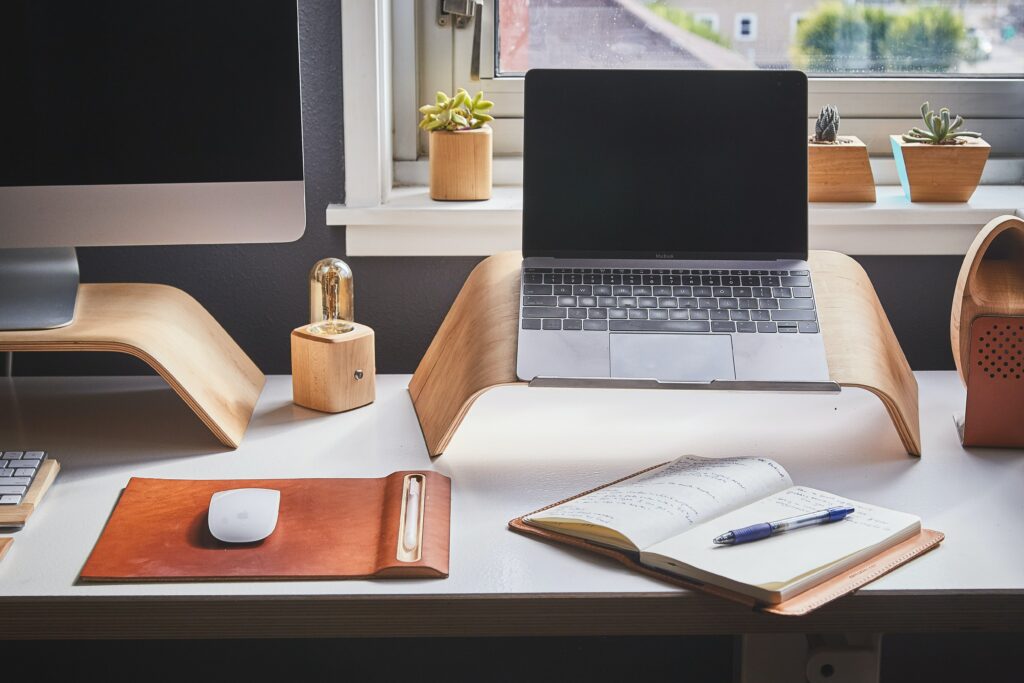 As we know, COVID-19 is forcing us to stay at home as much as possible and for a lot of workers, this means continuing working from home. This environment can be challenging and not everyone likes it. However, a large number of people already choose to work remotely from time to time, 43% in the USA in 2019, and this number will increase even more in the next few years.
In this blog, we will give you our 3 best tips to make remote work pleasant for you!
Your environment
We might often think that our ability to focus is due to our personality or mood of the day but that's not always the case. Most of the time, your environment around you is the cause of your lack of focus.
The first thing to do, while setting up your workspace at home, is to find a place that is the most quiet in your home. Of course, it's not always easy because you might have children or loud neighbours but it is important to try. If your surrounding is too noisy, music can be your saver. For those who still have trouble finding a quiet space, it's a good idea to invest in noise-cancelling headphones. With these headphones, you can listen to classical music or ambient background noise.
They say a messy desk, messy mind. For those who are not already used to cleaning their desks every day at work, this advice is for you. You might think that a messy desk or room will not affect your work because you are used to it, but it is the contrary! A messy environment will create too many distractions for you, which will hinder your focus. You'll think about all the other things you have to do instead of focusing on your work.
More than a quiet and clean environment, it is important to work in an environment you feel comfortable in. Most of the time, we decorate our home the way we like but finding the right place to work can somethings means working in the living room instead of your bedroom because there is more light or you are less distracted there. Add also a few (not too many) items you like or that you had on your desk at the office so that it reminds you that this area is meant to work and nothing else.
Get more useful tips by reading our blog about 10 tips to feel better in your work environment!
Working with good online tools
Having powerful and well-thought tools are essential to having a great experience working from home because you're going to spend a lot of time on them. Here is a list of our recommended tools that will help you to work efficiently.
This range of tools is your best ally to work in collaboration with your teammates. In the Google Suite you can find:
Google Drive: An online folder where you can share any kinds of documents with your colleagues.
Google Doc: Enables you to create text documents, editable by any of your teammates at the same time.
Google Sheets: Same as Google Doc but for table sheets, exportable to Excel, PDF and so on.
Google Agenda: Great to plan meetings or deadlines.
Microsoft Teams and Zoom are two online tools that allow teams to video call very easily. Working from home often isolate you from your colleagues and communicating can sometimes be difficult. Video calling helps you keep in contact and avoid misunderstandings and to connect with your colleagues whom you do not get to see anymore.
When emails are not as instant as we would like them to be and Facebook Messenger is not professional enough, Slack is a great alternative. It is a chat tool where you can connect with your colleagues and get an answer more rapidly than by email. You can share documents, plan meetings, and discuss different subjects without getting lost in thousands of emails.
This tool is for organization addicts who love making lists and hate messy computers! Notion allows you to create a personalized space for all your notes, calendars, to-do lists, project or client management documents and so on. Notion has an active community who creates templates to help you complete your perfectly organized space. Find their amazing templates here.
This is the perfect task management tool for you and your team. Trello allows you to create detailed cards for each task or idea you have and organize them into different columns. For example, you can create 3 columns: 'To do', 'Doing' and 'Done' and organize your tasks in each column to keep track of your project advancements as well as your teammates' ones.
Choosing the work method that fits you
Throughout the years, people have always been interested in improving their working methods and some came up with great ideas. Not all the method will fit your needs or your way of working so the best is to try them one after the other and choose the ones that work for you.
Here are our favourites:
Everyone knows this one, but we often forget about it. Having a good old to-do list gives us the minimum structure some need to work efficiently, one task after another. It is always better to place your most urgent tasks at the top of the list to keep your focus on them. An effective to-do list has a minimum of 3 and maximum of 7 tasks.
This method consists of managing your time in constant time ranges. Their method is works usually like this:
Start your first Pomodoro (work 25 minutes straight)
Take a 5 minutes break
Start your 2nd Pomodoro
Take a 5 minutes break
Repeat the Pomodoro 2 more times with a 5 minutes break between break
Take a long 25 minutes break
Start a new cycle
This one is simple but essential! Taking small but regular breaks help you focusing more on your task during an extended period than working without breaks or longer ones.
This method is great for people who need to multitask. They can allocate 25 minutes for each task they have to complete. This method can also be personalized, maybe you'll want to work 90 minutes straight and then take a long break but don't make your Pomodoro less than 15 minutes otherwise you'll not have much done at the end of the day.
This matrix allows you to divide your time according to task priority. Also called Urgent-Important Matrix, this method consists of separating your tasks in 4 different categories: 'Urgent and Important', 'not Urgent but Important', 'Urgent but not Important' and finally, 'not Urgent and not Important'.
Create a cross on the middle a piece of paper that goes from top to bottom and from right to left and place the different tasks you need to accomplish. You need to put your attention mainly on the first category 'Urgent and Important' during your workday.